Social Media Sentiment from Social Market Analytics (SMA)
We continue to augment our fundamentals research offerings to help you make better investment decisions. Our latest provider, Social Market Analytics Inc. (SMA) delivers current (weighted) and historical social media sentiment for a company based on the content and volume of unique Tweets, which have been triple-filtered for relevance and credibility from the daily Twitter stream of over 500 million Tweets.
Current data coverage includes the entire US equity universe, over 3000 global ETFs and the LSE FTSE 1000, with content updating every 1 minute. FX and Commodity futures and FX Spot coverage coming soon.
SMA data points are reflected in new Social Sentiment columns that you can display in your Watchlists, Scanners and Portfolio. Watch for the new Social Sentiment widget in Fundamentals Explorer coming soon.
Social Sentiment Score Columns
Score values range from -4.25 to 4.25. A score of 3 or higher indicates extremely positive sentiment. A score -3 or lower indicates extremely negative sentiment.
Social Sentiment Score: The normalized, time-weighted summation of unique Tweets from credible accounts across a 24-hour rolling window, at the time of observation. Tweets arriving closer to the observation time carry more weight than those that arrived farther from the observation window. For example, at 09:10 AM, it is the summation of sentiment of tweets received between 09:10 AM the previous day and 09:10 AM today weighted such that the tweets closer to 9:10 AM today are weighted higher.
Social Sentiment Score Change: Change in Social Sentiment Score from the prior day's average.
Tweet Volume Score: Normalized value of Indicative Tweet volume used to compute the social sentiment score, which is the number of unique tweets arriving in a 24-hour interval from certified Social Market Analytics accounts.
Social Sentiment Score Delta: Change in Social Sentiment Score over a 15 minute look-back period.
Tweet Volume Score Change: Change in Tweet Volume Score from the prior day's average.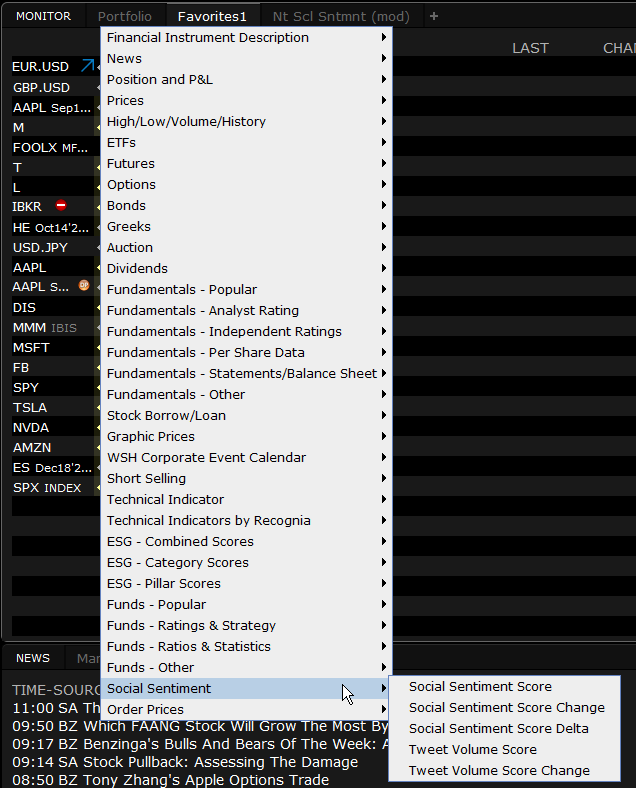 To add these columns to a TWS window, hold your mouse over an existing column name until the Insert Column command appears. Click Insert Column and scroll to the Social Sentiment column group. Click a title to add the column to your window. Hold your mouse over a title in the group to see the column definition.