Be sure to securely save your user name and password since they are required for login and trading of your account. Your id and password open a world of trading opportunities on multiple trading platforms, from TWS desktop solutions to trading on-the-go with the IB mobile apps. Interactive Brokers also offers API solutions for unparalleled access to IB's automated trading tools for rapid trade development, testing, and eventual executions.
Trader Workstation
Download and install the TWS Latest software using the Login button on the Interactive Brokers web site. This adds a TWS shortcut on your desktop to launch the Trader Workstation> Enter the user id and password you created. Your watchlists and other setting choices will be automatically saved when you logout

Mobile Trading
For on-the-go access to your account via your smart phone or tablet. Download the IB TWS Mobile Software for your mobile device from Apple iOS or Google Android.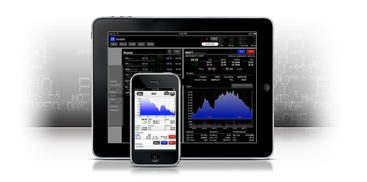 Create your own automated rule-based trading system to take advantage of IB's high-speed order routing in implementing a programmed trading strategy with IB's proprietary API solutions.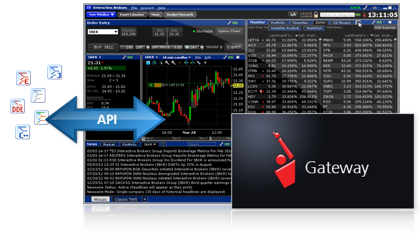 Trader Workstation - Mosaic
The pre-configured Mosaic workspace has color-linked windows for intuitive, out-of-the-box usability. All windows will update simultaneously when you select a ticker. So you can instantly:
view a real time chart to evaluate market movement
check current sizes, volumes and key financial data with expanded quote details
scroll through current headlines and social sentiment on the underlying
create and transmit an order with just a few clicks
Access is provided to additional tools through the New Window button.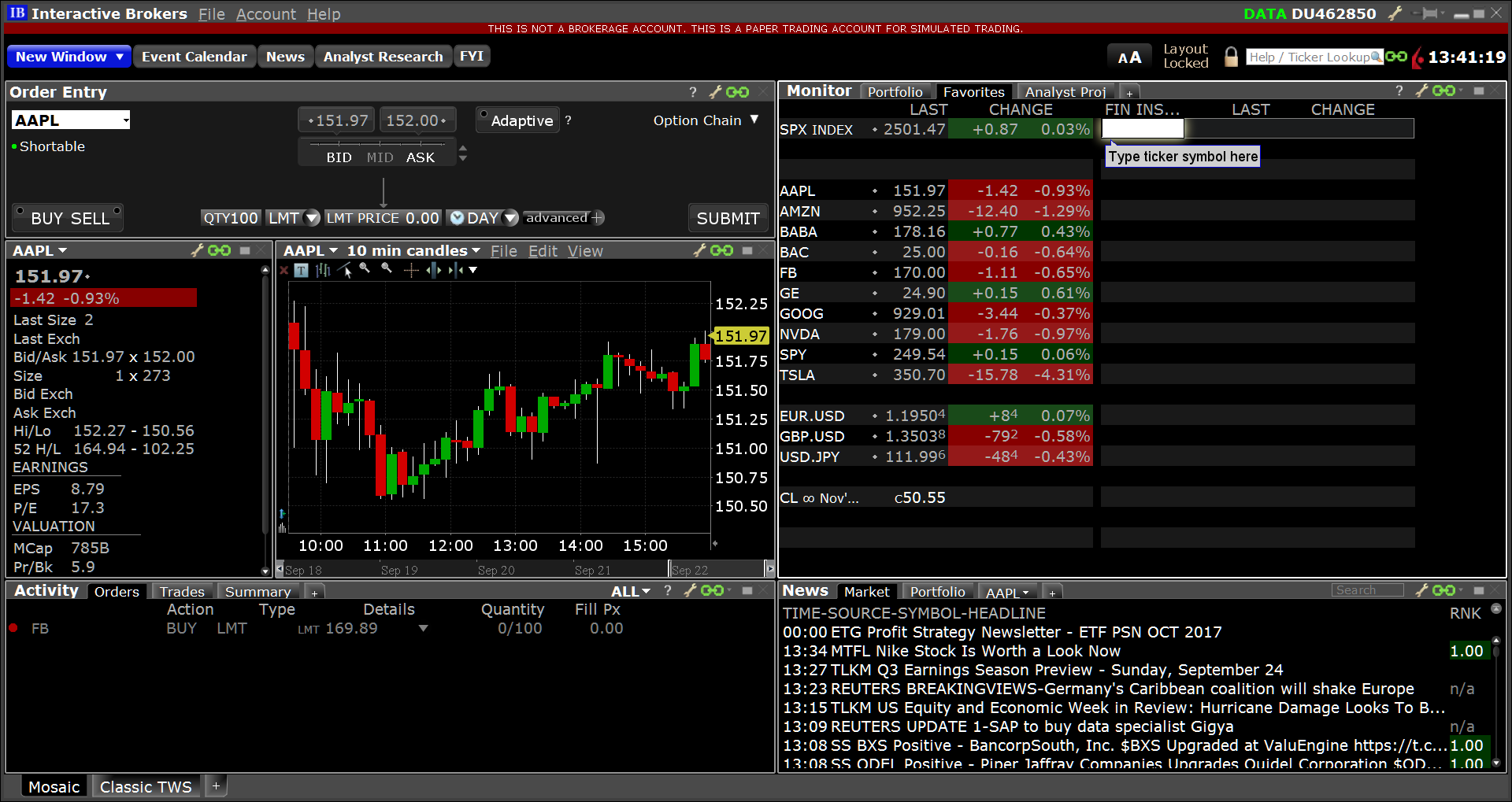 Watchlist
The default Watchlist is pre-populated with several sample tickers. The background colors and tick dots give you at-a-glance information and directional movement.
Use the "+" icon to create your own Watchlist(s) with real-time market quotes. Enter a ticker symbol and you'll be prompted to identify the asset class and exchange / routing destination in the Contract selection window. Where available, equity and options tickers use "SMART" for an aggregate price display and sets up your orders for IB's SmartRoutingSM.
Portfolio tab - displays your held positions, current prices and market values as well as total equity and margin balances. Daily P&L lets you gauge the account's gains or losses in the current session – both for individual positions and the overall account.
Columns are sortable - left click on each column header.
Key account balances display at top of this tab.
Configuration - Look for the configuration wrench in each window title bar to add market data fields, monitor unrealized P&L
The +More button opens your Account Window for complete account information.
Market Scanners
Scanners allow you to quickly and easily scan markets in real time to seek out potential trade opportunities.
You can create, customize, edit and view real time Market Scanners with the "+" tab in the Monitors window. You specify the instrument and filtering criteria, and TWS will rank results. You can apply filters and choose how to display the results. Scans can also be set to Dual Sort showing both ascending and descending values in the scanner window.
Charts
Real-time charts are color-linked to your ticker selection to update as you change ticker symbol. Additional Chart windows can be opened from the New Window Button. Change the date range viewed, add studies and indicators.
Order Entry Window
Order Entry window provides a fast, convenient way to create and transmit orders. This color-linked window populates with the ticker symbol you have in focus.
Click the Buy or Sell button to initiate a trade. The order row populates with default values. Use the efficient pull-down menus to specify your order criteria, and SUBMIT when ready. Use the advanced+ button to create dependent orders such as Bracket, OCO or Hedge orders.
Quickly set up Algo orders with the advanced+ button by choosing IBAlgo in the Destination field. The available algos will display according to the instrument selected.
For submitting combination option orders open the Strategy Builder with button in lower right of the Option Chains window. Select the contracts for your spread by clicking the Ask price for a Buy leg and the Bid price for the Sell leg to build your spread. TWS calculates and displays an implied quote line where you can review and transmit directly from the order row in the Strategy Builder. Notes on Spread pricing
The Order Types matrix contains specific information, including definitions, examples and even step by step instructions for each order type.
Activity Monitor
Once transmitted, the multiple tabs in the Mosaic Activity Monitor allows you to view working orders, track and/or modify live orders and view a running list of completed trades.
Orders tab – is the central location to view and manage current trades. To modify a working order, click the field you wish to change, and modify the criteria. Then be sure to click the U (update) button to transmit that change. The C button (Cancel) will send an order cancellation request.
Trades – Shows trade executions for the current trading session.
TWS maintains trading activity for a maximum of the previous 7 days. To view your complete trading history, use the Account menu to access your Activity Statements. You can run Daily Activity reports or set a specific date range.
Account Window
Your buying power is determined on a real-time basis and can go up or down according to changes in the market value of your positions and any trades executed that day. IB's system continually enforces financial limits on accounts and prevents trades if the account has insufficient available margin.
Use Account Window to view real-time account balances, current margin projections and the funds you have available for additional trades.