2. Real-Time Margin Calculations
Throughout the trading day, we apply the following calculations to your securities account in real-time:
Real-Time Maintenance Margin Calculation
Soft-Edge Margining
Real-Time Maintenance Margin Calculation
Our Real-Time Maintenance Margin calculation for commodities is shown below. The maintenance margin used in this calculation is set by the individual exchanges and listed on the Futures & FOPs Margin page. In the calculations below, "Excess Liquidity" refers to excess maintenance margin equity.
Example: Commodities Real-Time Maintenance Margin Calculation
Excess Liquidity >= 0
(Excess Liquidity= Commodities Net Liquidation Value - Maintenance Margin Requirement)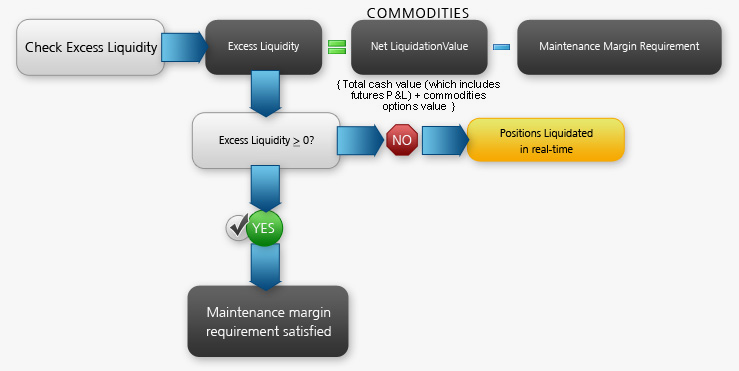 In addition, any account that has a negative Net Liquidation Value on a trade date or settlement date basis will be liquidated. It should be noted whereas futures settle each night, futures options are generally treated on a premium style basis, which means that they will not settle until the options are sold or expire. Therefore, for certain combination futures and futures options positions, there may be a mismatch in cash flows which could cause cash to go negative even though Net Liquidation Value is positive. In addition, there are a handful of options where local custom is to cash settle the option each night at the clearing house (e.g. HKFE HSI Options), but we may choose to margin these options on a premium style basis.
Soft Edge Margining
We will automatically liquidate when an account falls below the minimum margin requirement. However, to allow a customer the ability to manage risk prior to a liquidation, we calculate Soft Edge Margin (SEM) during the trading day. From the start of the trading day until 15 minutes before the close of the trading day, Soft Edge Margin allows for an account's margin deficit to be within a specified percentage of the account's Net Liquidation Value, currently 10%. When SEM ends, the full maintenance requirement must be met. When SEM is not applicable, the account must meet 100% of maintenance margin.
Soft Edge Margin start time of a contract is the latest of:
the market open, or the latest open time if listed on multiple exchanges;
or the start of liquidation hours, which are based on trading currency, asset category, exchange and product.
Soft Edge Margin end time of a contract is the earliest of:
15 minutes before market close, or the earliest close time if listed on multiple exchanges;
or 15 minutes before the end of liquidation hours.
If an account falls below the minimum maintenance margin, it will not be automatically liquidated until it falls below the Soft Edge Margin. This allows a customer's account to be in margin violation for a short period of time. Soft Edge Margin is not displayed in Trader Workstation. Once the account falls below SEM however, it is then required to meet full maintenance margin.
Please note that we reserve the right to restrict soft edge access on any given day, and may eliminate SEM completely in times of heightened volatility.